This August, Think|Stack reached a major milestone: its 10th Anniversary.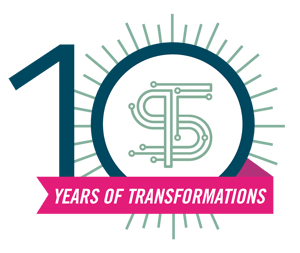 In celebration of our achievements and officially reaching the double digits, Think|Stack employees came together during their annual Leadership Week to host a party and livestream for all those who helped make the occasion a reality and wanted to join in on the festivities.
As Chris Sachse, Think|Stack's CEO and Founder shared, so many employees, partners, and clients played a part in getting Think|Stack to where we are today, so we wanted to share the moment with all of you too. So have a little fun as we look back together at our spin on the classic late-night countdown theme with our countdown of Think|Stack's top 10 memorable moments.
Enjoy!
10. Began in 2011 with Only 4 Employees
One fateful summer day in 2011, the company that would come to be known as Think|Stack team opened up shop. In no time, the team of 4 officially proceeded to begin to shake up the technology services world with their unique blend of people-first values and sharp technical and industry know-how.
9. Adopted a 100 Percent Remote Work Environment in 2011
While much of the world is still adjusting to the benefits and realities of a remote work culture, Think|Stack has been doing it since the beginning.
As with most things, Think|Stack was ahead of the curve, helping the company live up to its values of putting clients and team members first.
8. Rebranded from Horsetail Technologies to Think|Stack in 2017
It's a long story, but did you know that Think|Stack used to be known as Horsetail Technologies?
You should ask us about that one. It's a great story!
7. Launched a 24/7 Operations Center and Received SOC 2 Type II Certification in 2019
Also ahead of the curve (noticing a theme?), Think|Stack officially "opened its doors" on our own 24/7 operations center and locked in our SOC 2 Type II certification in 2019.
This was a big investment in keeping our customers' data, services, and assets safe and further proof that the Think|Stack team is prepared as technology continues to evolve.
6. Moved into Think|Stack HQ in 2015
Although we have a remote-first culture, in 2015, Think|Stack officially moved its headquarters to the famed Thames Street in Baltimore.
Surrounded by classic Maryland-style cuisine and plenty of walkable streets and trails, it is hard not to love this waterfront property.
5. Earned the Public Sector Partner Award in 2021
Proving that our Top 10 list truly isn't in priority or chronological order, the Think|Stack team is proud to have achieved recognition by Global Amazon Web Services with the Public Sector Partner Award in 2021.
The award recognizes Think|Stack's work in helping credit unions secure their cloud solutions.
4. Topped $10 Million in Total Account Value in 2020
In 2020, the number of clients that Think|Stack had the chance to serve surpassed $10 million in account value, proving that our culture, values, and professionals must truly be on to something.
3. Reached 40+ Employees in 2021
In just 10 years, Think|Stack more than quadrupled in size, bringing on many talented, passionate rebels who love what they do: helping organizations solve unique business challenges with innovative technology solutions.
2. Became a Credit Union Service Organization (CUSO) in 2021
After 10 years of hard work, Think|Stack's deep technology expertise and credit union knowledge was marked with the formation of a Credit Union Service Organization (CUSO) in 2021.
The acknowledgment and investment will allow Think|Stack to continue to grow its team, cloud adoption, and cybersecurity expertise in the industry.
1. Celebrated Think|Stack's 10th Anniversary in 2021
Last but certainly not least, Think|Stack brought together all those who made the last 10 years possible to celebrate the transformation from a small family business to a successful growing team of professionals.
Explore our visual timeline of the past 10 years below.

Just the Beginning
While the last 10 years have been full of amazing experiences, powerful moments, and the beginning of many lasting relationships with both our clients and employees, probably the most exciting part about reaching Think|Stack's 10th anniversary is knowing that it truly is just the beginning of a much larger journey.
Armed with the right tools, the right mix of talent, and the right partnerships, the Think|Stack team is poised to not only continue to deliver exceptional service for our customers but also kick it into a whole new gear. (This is all while staying true to our people before tech values, of course!)
Want to learn more about Think|Stack, our unique approach to technology services, and what makes us tick? We encourage you to check out our blog and our about us page, and download our free guide to everything that is Think|Stack, The Book of Think|Stack.
About the Author
Ashley Casey